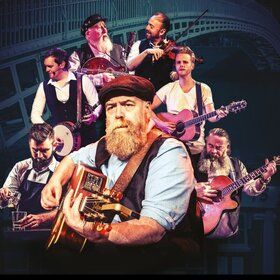 The Story of the Dubliners
2023 begibt sich die Konzert-Show "Seven Drunken Nights" auf ihre fünfte Welttournee und macht dabei auch in Deutschland Station. Lassen Sie sich vom irischen Sound und der unglaublichen Atmosphäre dieser Konzerte begeistern. Sichern Sie sich jetzt Ihre Tickets!

Unter dem Titel eines der bekanntesten irischen Lieder "Seven Drunken Nights" bringen die neun Musiker den berühmten Klang der Band "The Dubliners" zurück auf die Bühne. Bei diesen Folk-Konzerten können Sie die 50-jährige Erfolgsstory noch einmal erleben.

"Seven Drunken Nights – The Story of the Dubliners" entsteht in Zusammenarbeit mit der irischen Tourismusbehörde und den O'Donoghue's Irish Pub in Dublin. Hier begann für "The Dubliners" im Jahr 1962 zunächst noch unter dem Namen "The Ronnie Drew Folk Group" eine Karriere, die bis heute nachhallt. Mit ihrer Folk Music begeisterten sie weltweit ihr Publikum mit unzähligen Hits auf fast zwei Dutzend Studio- und zwölf Live-Alben. Bei dieser Show hauchen herausragende Musiker der legendären Gruppe und ihrer Musik wieder Leben ein und erschaffen Konzertmomente, die dem Original in nichts nachstehen.

Tauchen Sie in die mitreißende Welt der irischen Folk Music ein und erleben Sie musikalische Highlights, die Irland und die ganze Welt zum Tanzen bringen. Jetzt Tickets für "Seven Drunken Nights – The Story of the Dubliners" sichern!
Source: Reservix