BOB WAYNE - Revenge Tour 2022
Murnaustraße 2
65189
Wiesbaden
Event organiser:
Kreativfabrik Wiesbaden e.V., Murnaustraße. 2, 65189 Wiesbaden, Deutschland
Event info
After 12 years of touring with his band and recording 8 albums Bob Wayne is grabbing his guitar and going solo for one year.

"I love my band, I love playing and traveling with other musicians, but over the years I have always fantasized about making a solo record and touring the world alone, just me and my guitar, so now I am going to do it. " - BW

Armed with his new record entitled ´ROGUE´ Bob will begin his sojourn in Europe and then head to North- and South America.

"I found out the world record for the most shows in a tour cycle is 309. So I figured why not try to beat it." - BW

That´s right folks. Bob will also be attempting to break the world record for the most shows in a tour cycle!

Join Bob on his journey and be a part of this epic adventure!
Videos
Location
Kreativfabrik Wiesbaden e.V.
Murnaustraße 2
65189 Wiesbaden
Germany
Plan route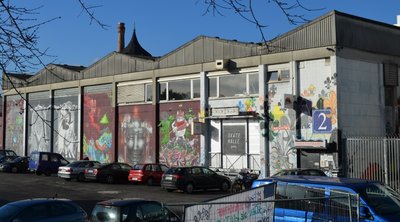 Auf dem ehemaligen Schlachthofgelände in Wiesbaden ist ein Kulturpark entstanden, zu dem seit 2002 auch die Kreativfabrik e.V. zählt. Die Türen der Kreativfabrik stehen dabei für jeden offen, der Ideen ausprobieren möchte, gemeinsam etwas für andere tun will oder das umfangreiche Veranstaltungsprogramm entdecken mag.

Aus dem Bestreben heraus, in dem neu entstehenden Kulturpark ein Haus der Begegnung einzurichten, entstand 2002 der Verein Kreativfabrik Wiesbaden. Er setzt sich aus einer bunten Gruppe aller möglichen Organisationen, Parteien und Altersgruppen zusammen und wird so auch der Vielfalt der Jugendkultur Wiesbadens gerecht. Rund um Kultur, Musik, Politik und Jugend findet man in den Räumen des früheren Fleischereinkaufs alles, was man sich vorstellen kann: Probenräume für Bands, Seminarräume und ein Gemeinschaftsraum mit Küche können auch für private Anlässe genutzt werden.

Mit dem Krea-Keller in der Kreativfabrik ist Wiesbaden um einen Veranstaltungsort reicher geworden: Hier wird seit 2009 ein facettenreiches und vor allem kreatives Programm geboten. Ausgelassene Partys und Konzerte aber auch Lesungen, Theatervorstellungen, Kunstausstellungen oder politische Veranstaltungen finden hier statt und beleben das Schlachthofgelände wieder.